Savour your palate with an exceptional dining experience
The Romanos, a Luxury Collection Resort
A wealth of fresh, organically grown ingredients and a devotion to authentic gourmet cooking define the dining experience at Costa Navarino. In a stunning variety of exclusive dining venues, our award-winning chefs serve a range of ethnic, continental, Greek fusion and local fare based on the lush flavors of the area's countryside and the finest Kalamata olive-oil.
Pero
Discover our breakfast buffet
Wake up to a wide range of healthy, sustainable and locally produced products on our breakfast buffet, including traditional Greek yogurt, honey and pastries.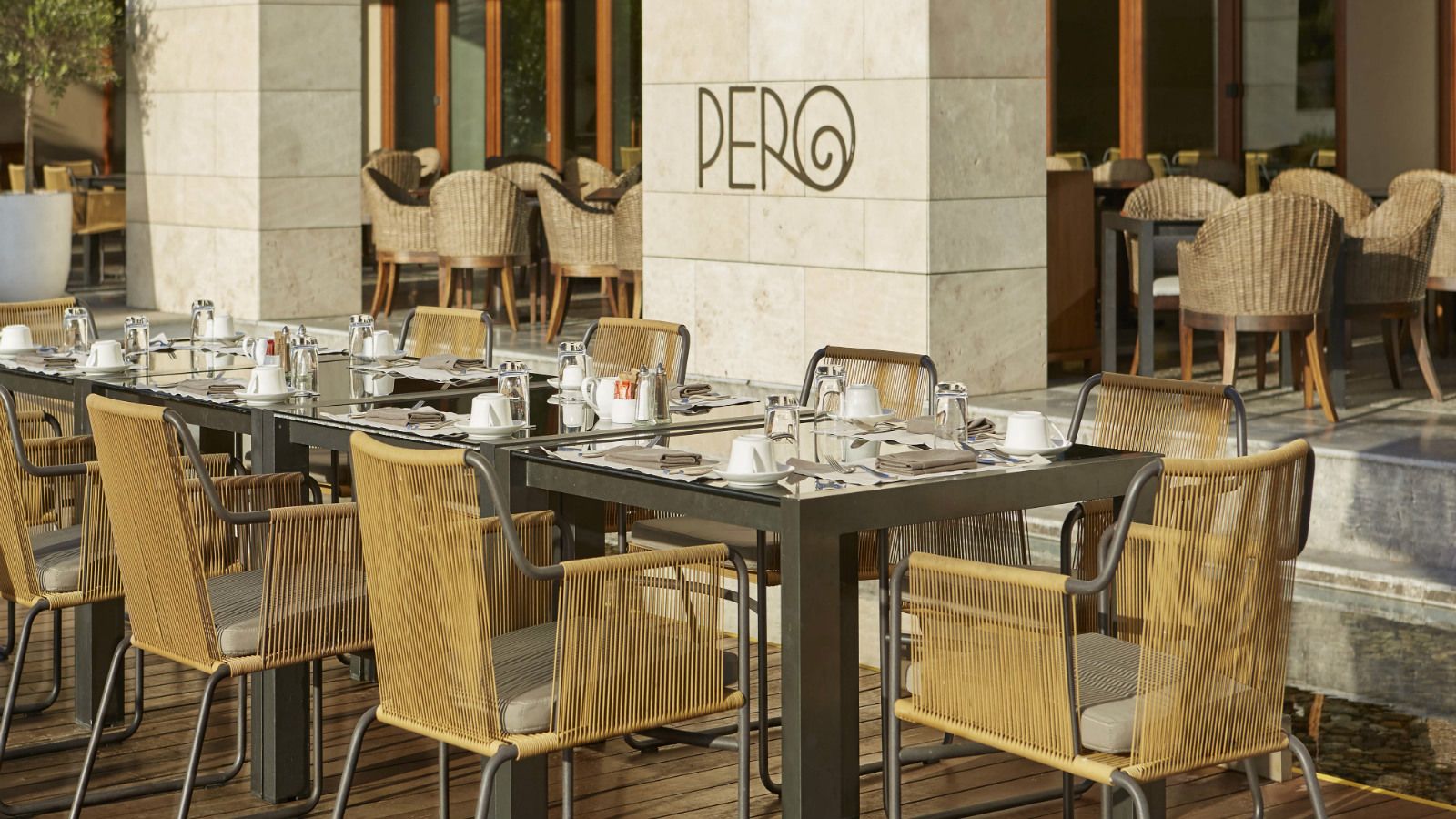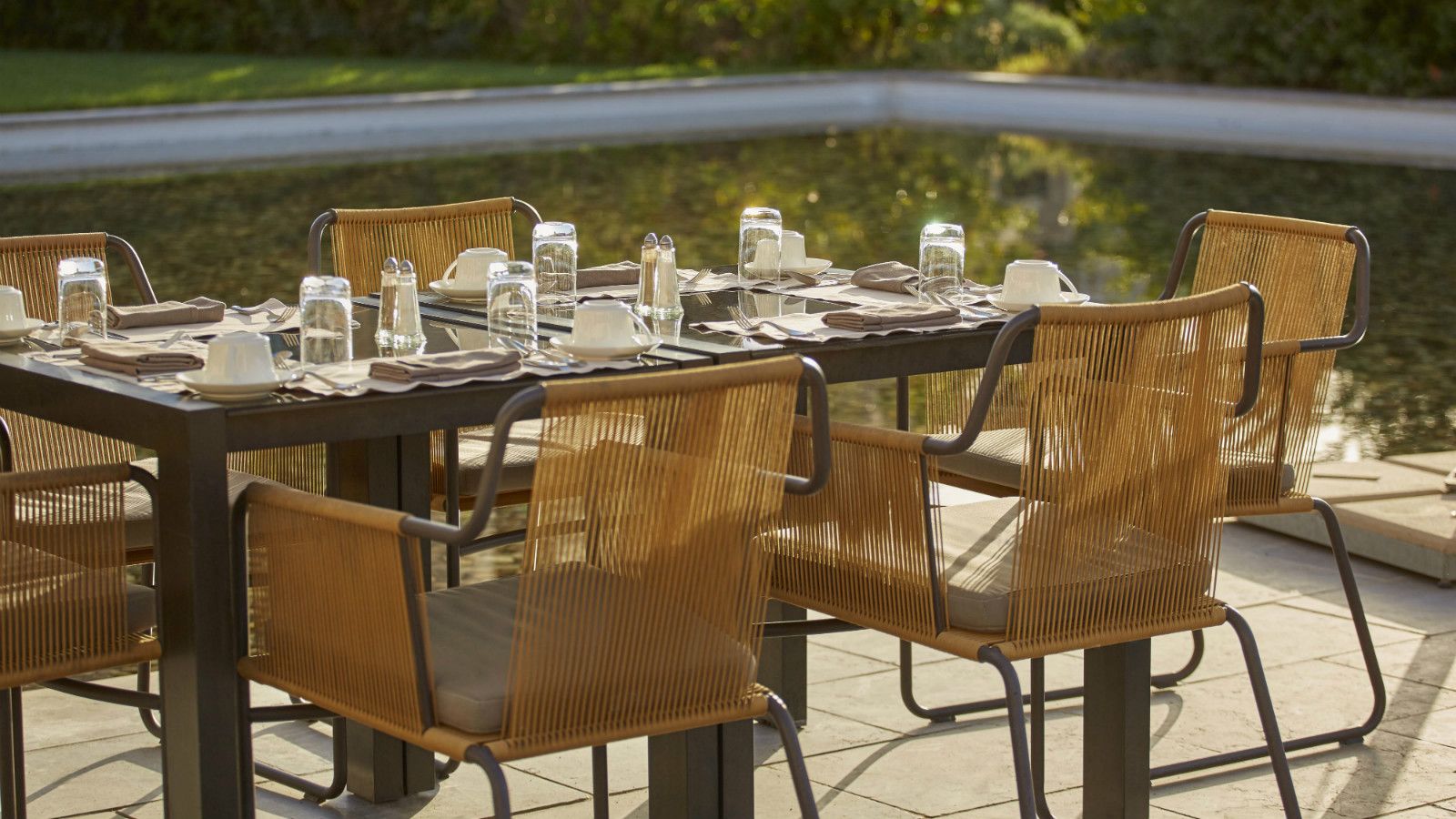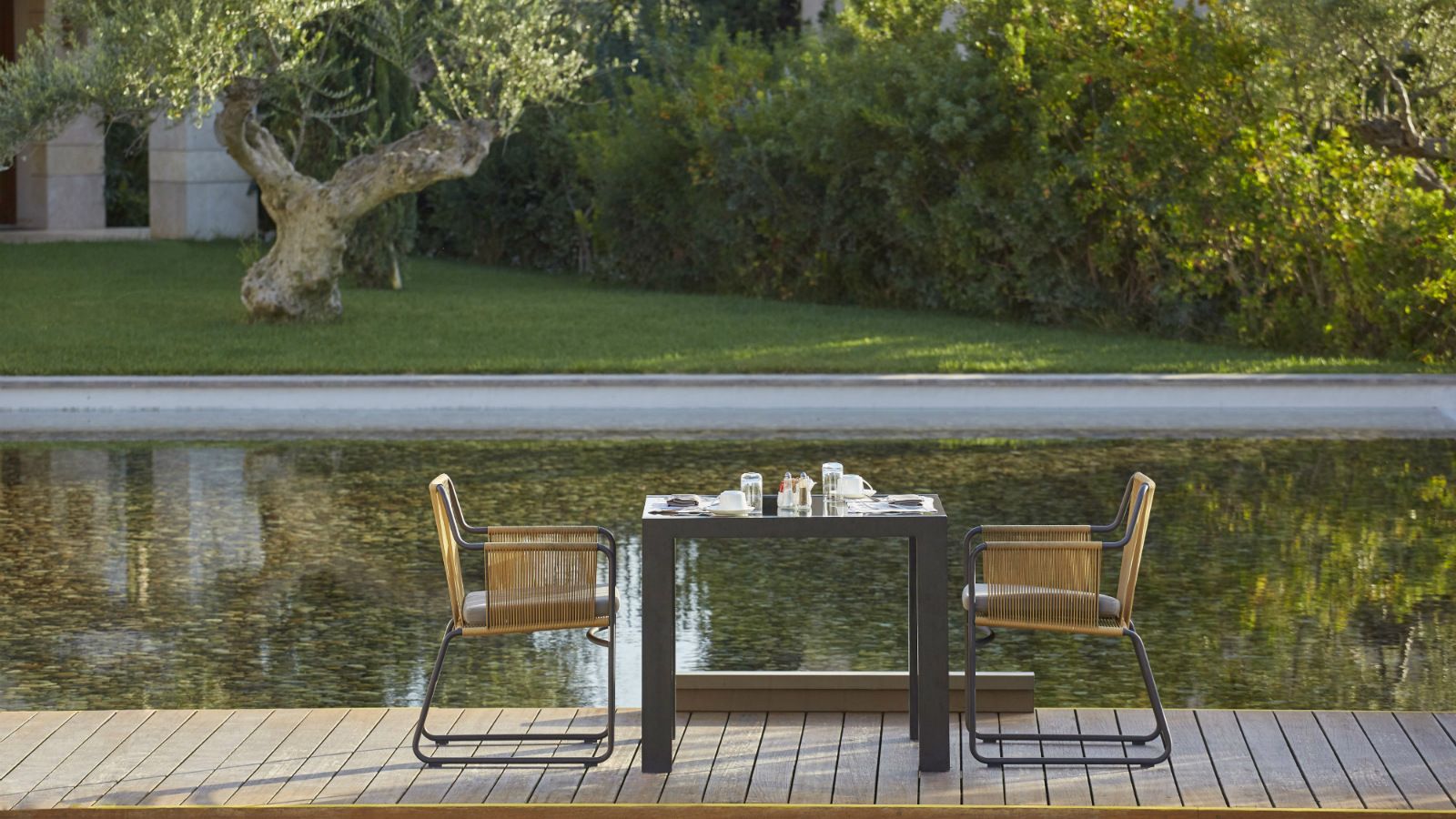 Armyra
by Papaioannou
Fresh fish, seafood and Greek culinary delights by chef Yorgos Papaioannou of Piraeus, acclaimed for the freshest fish and seafood specialties. Sourced from local fishermen, combined with the best ingredients and accented with local herbs, vegetables and olive oil, Armyra offers a unique gastronomic experience. Taste dishes like lobster risotto, mussels with ginger, tuna tartare with ginger and bitter apple as well as fresh salads with kritamo, local cheese talagani and much more.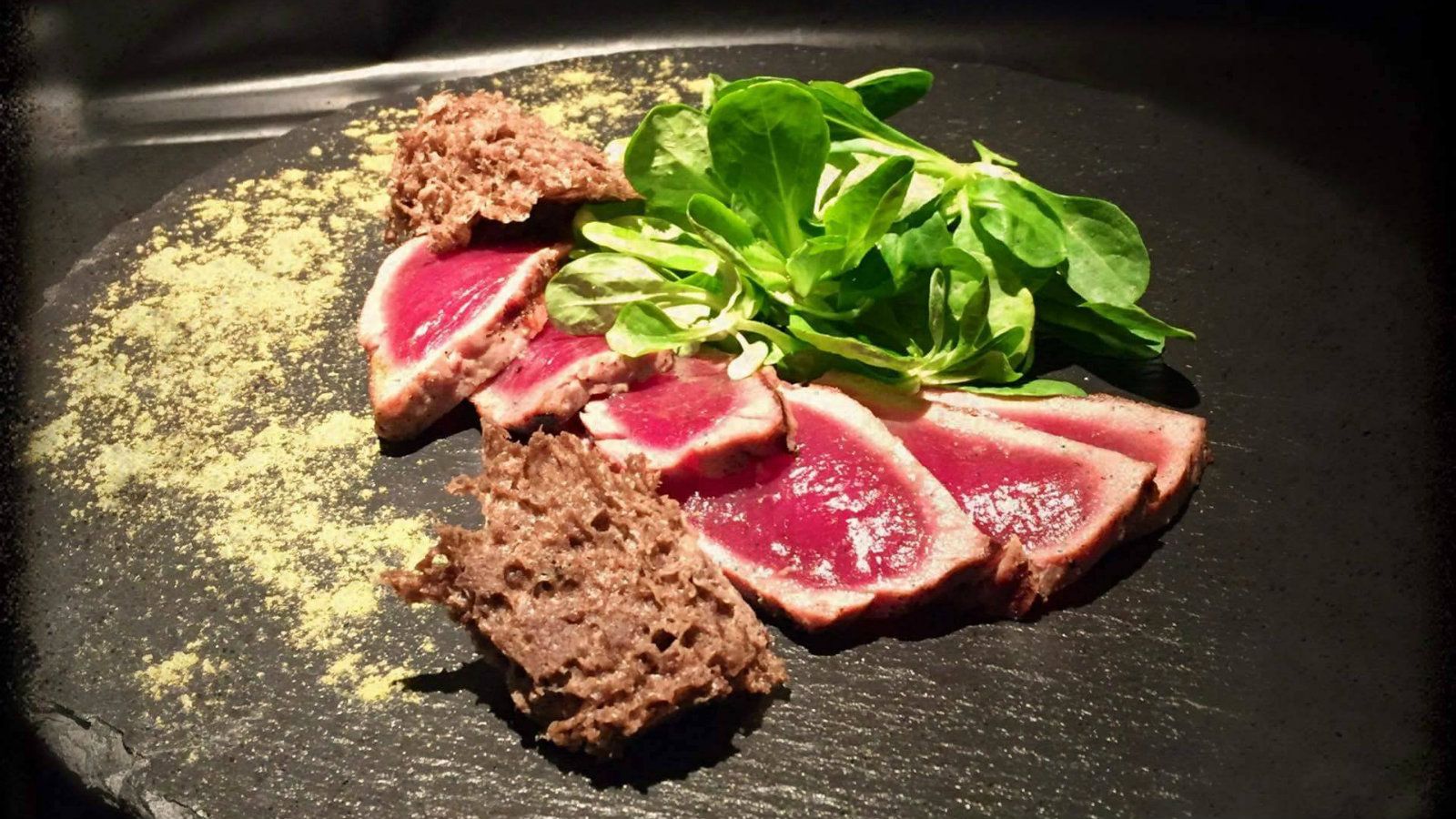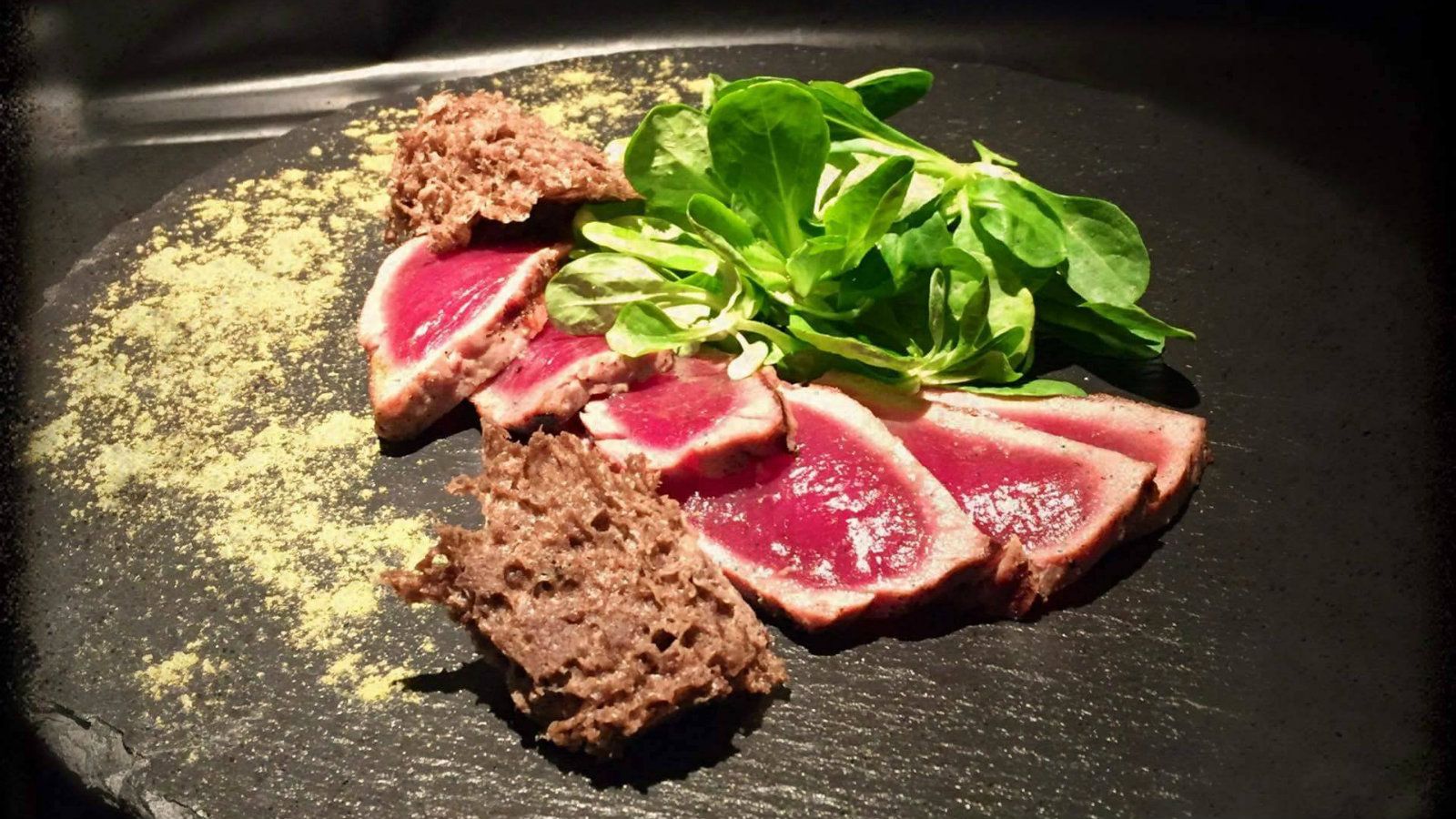 Taverna
A Greek quality dining concept
Fusion meets traditional Greek textures and scents to form an inspired dining harmony by Chef Chrissanthos Karamolegos. A culinary experience powered by "Ntomata".
Flame
Discover signature cuts
Classic and signature cuts, some exclusive, are served on large wooden platters, complemented by the freshest ingredients from carefully selected small-scale producers in the surrounding area. Many of the specialty herbs and vegetables are handpicked by our chefs, direct from the restaurant's purpose-built gardens.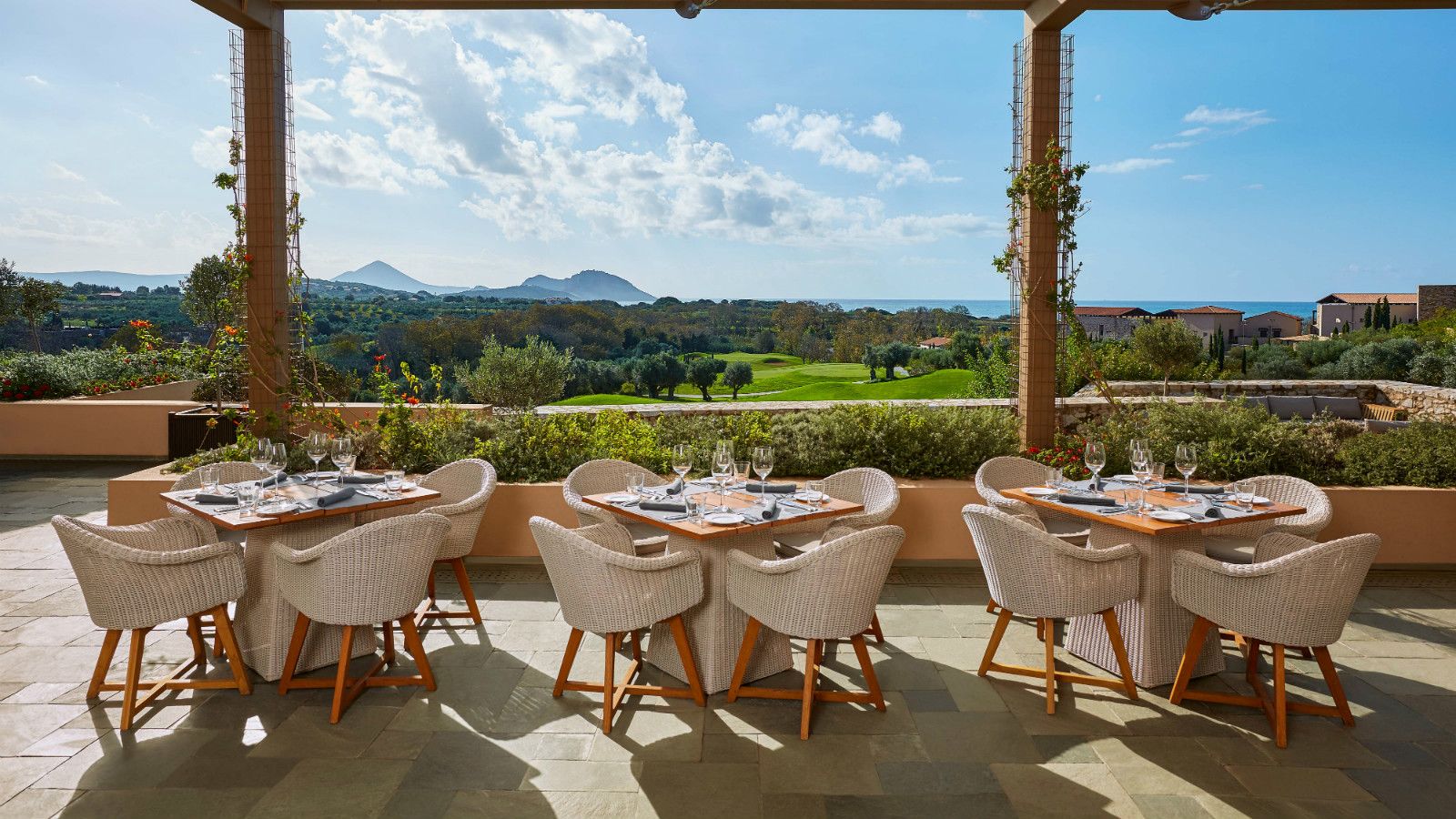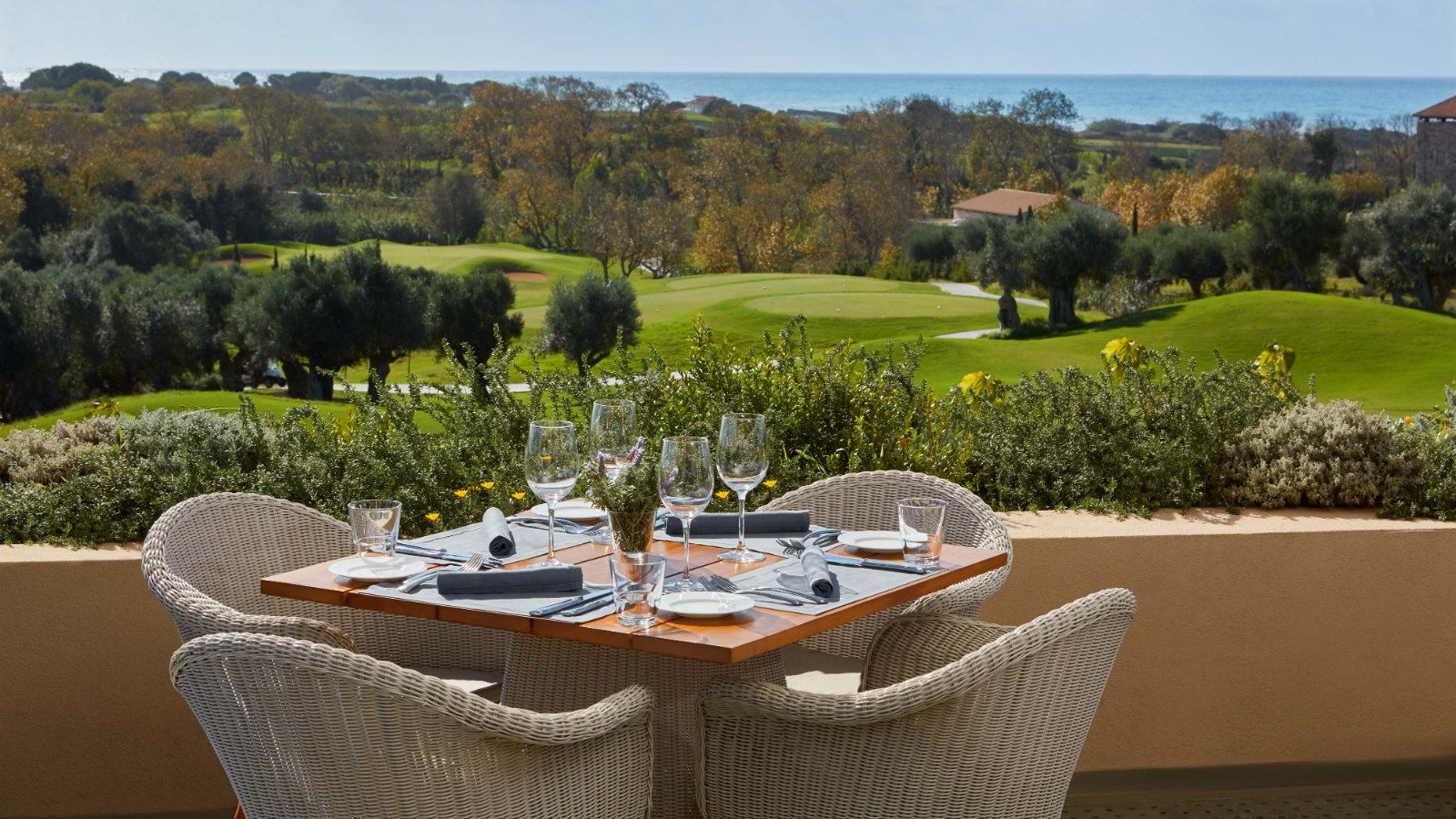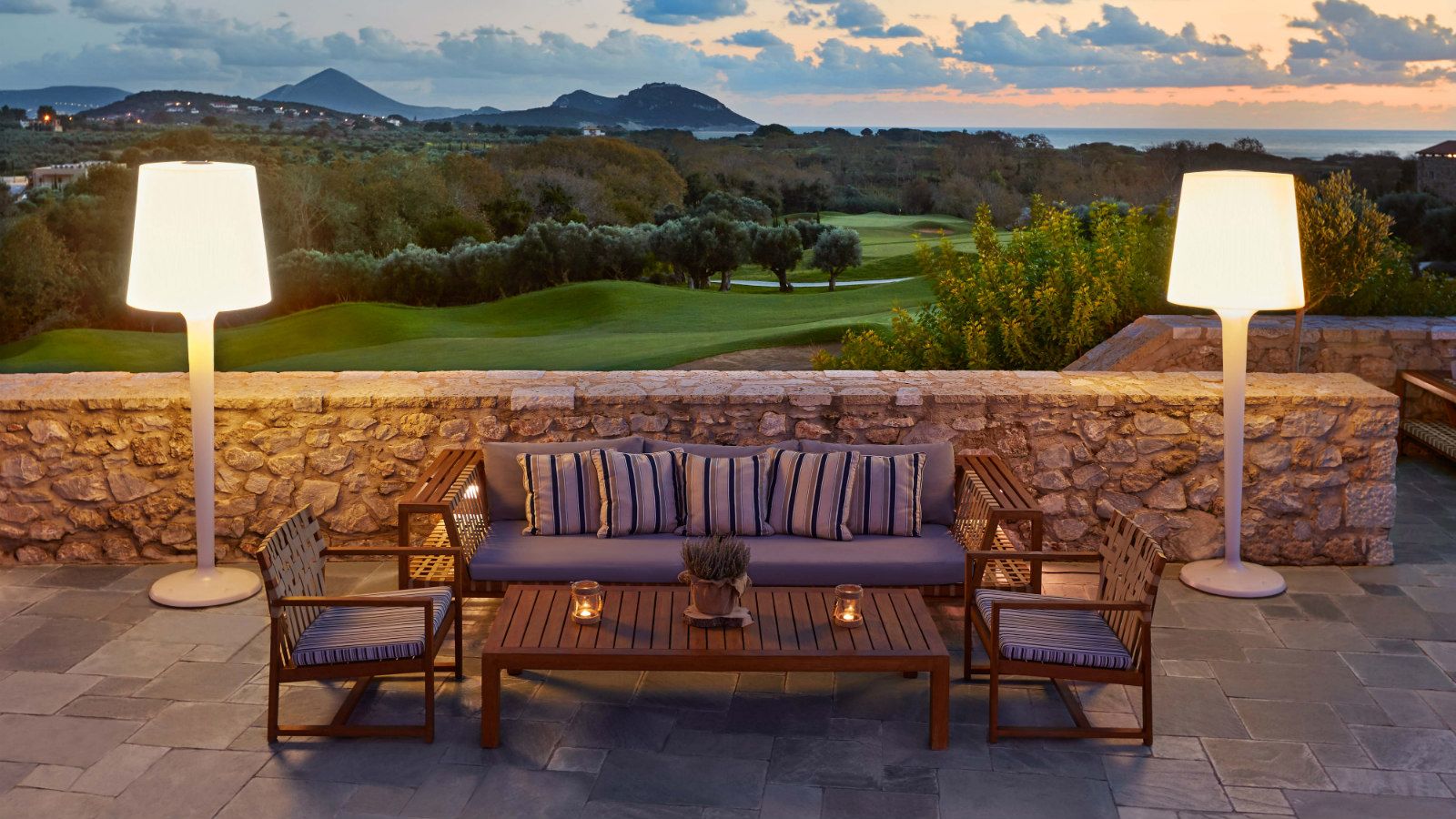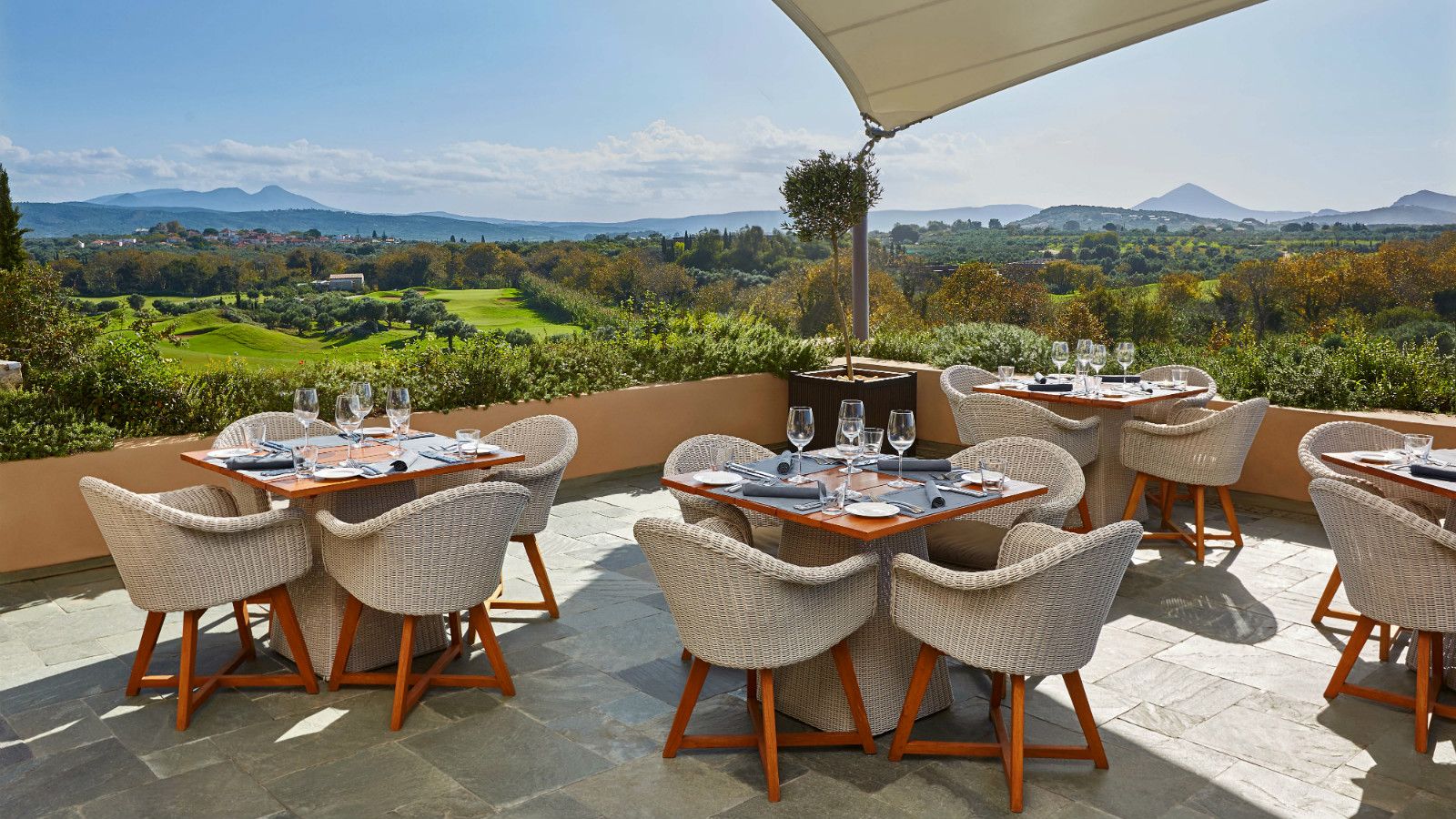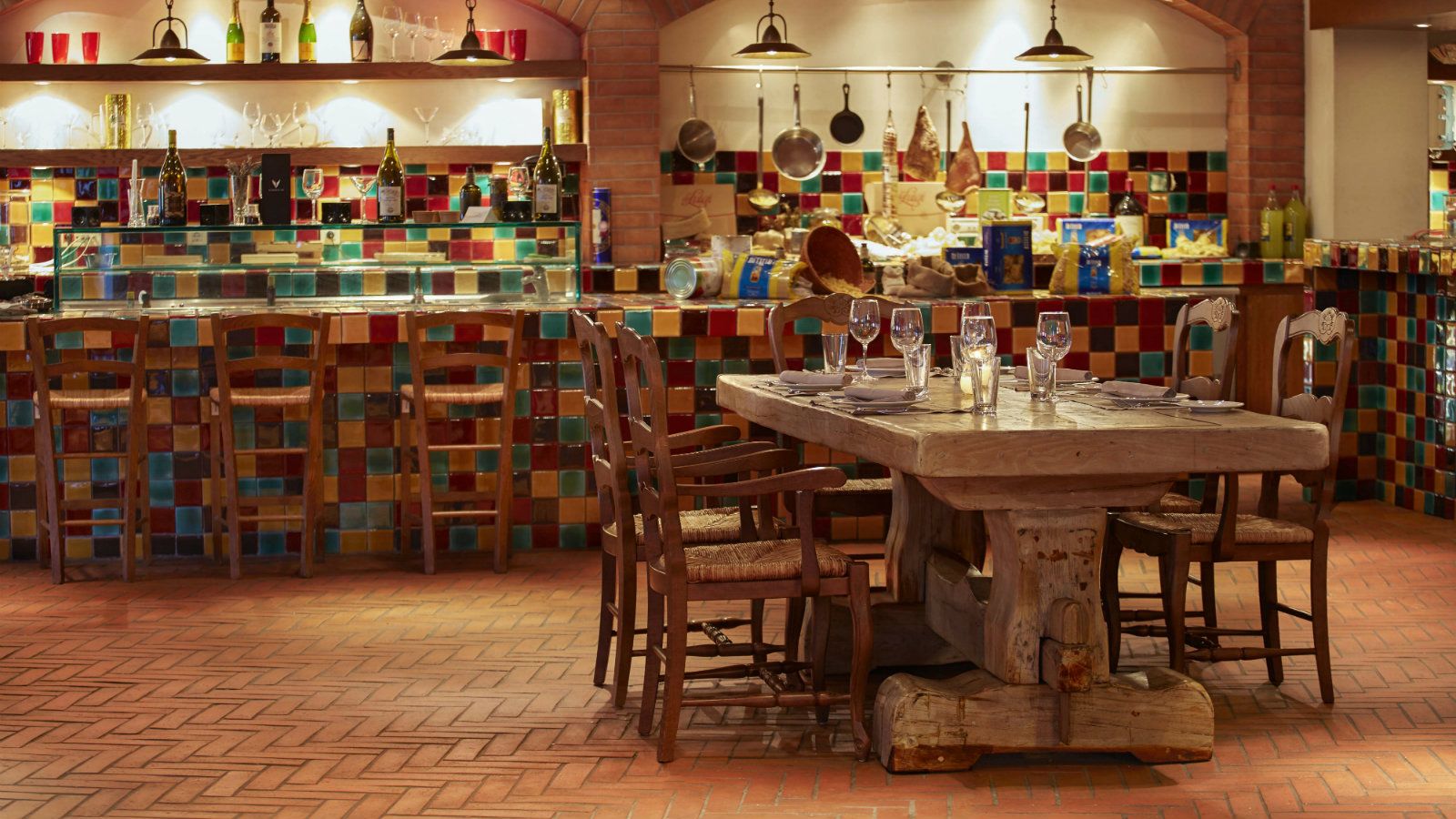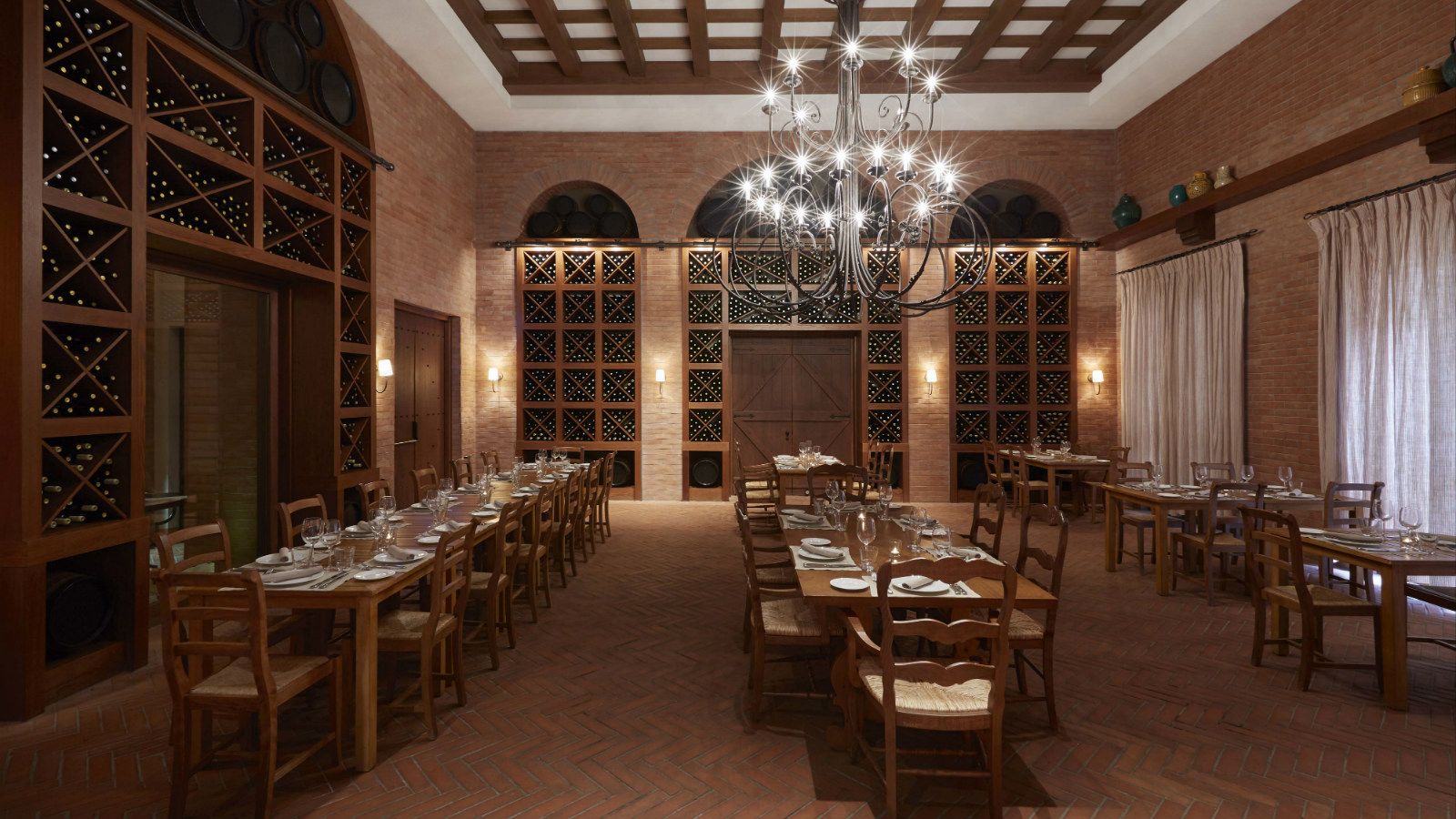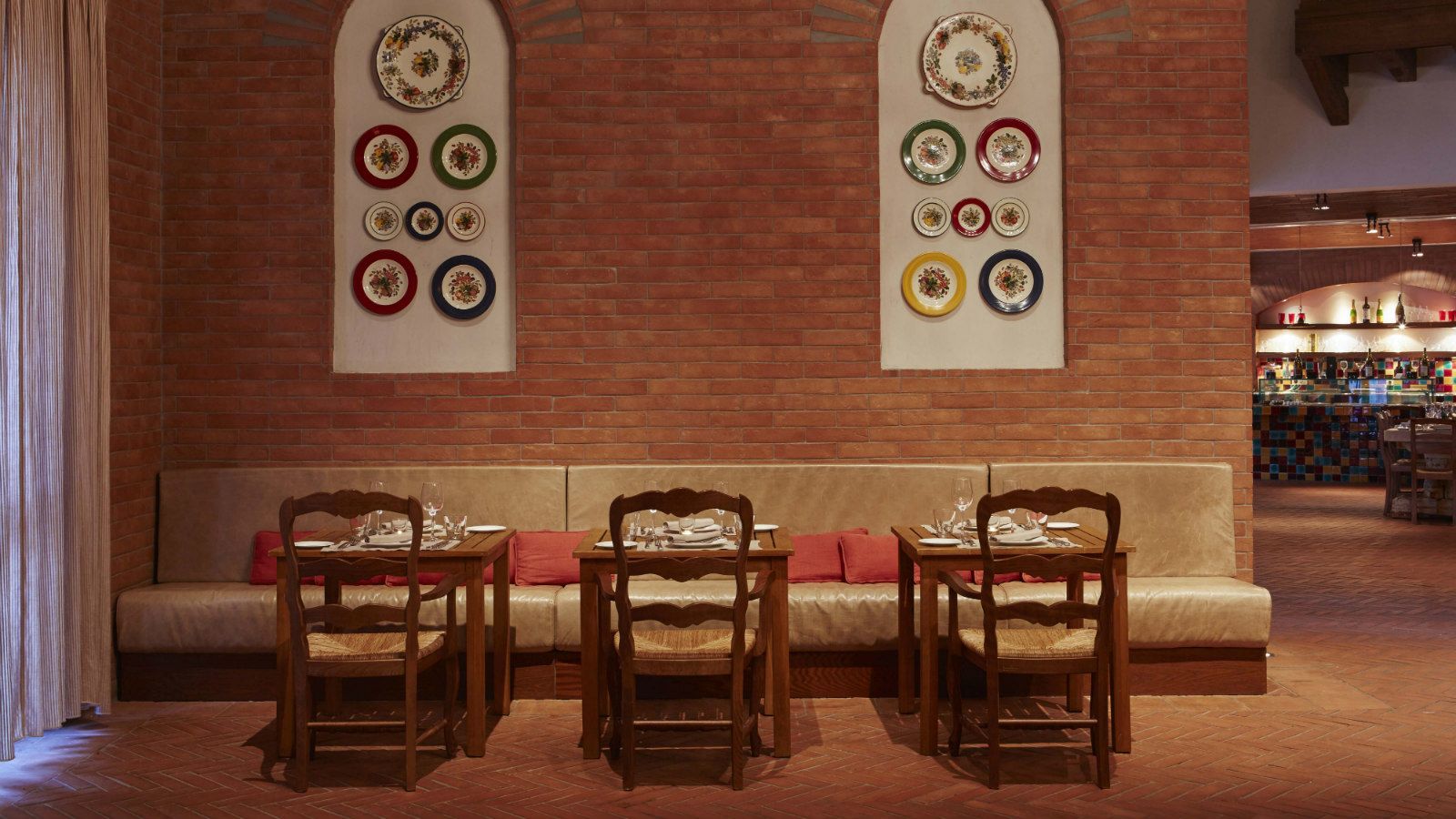 Da Luigi
An authentic Italian experience
From the Alps to Sicily, the creativity and diversity of Italian cuisine is vividly portrayed with an antipasti buffet, à la carte selections and traditional pizza-making. An Italian experience that can be combined with the time-honored Greek tradition of outdoor cinema, as you savor your meal while watching a film on the Agora Cinema screen.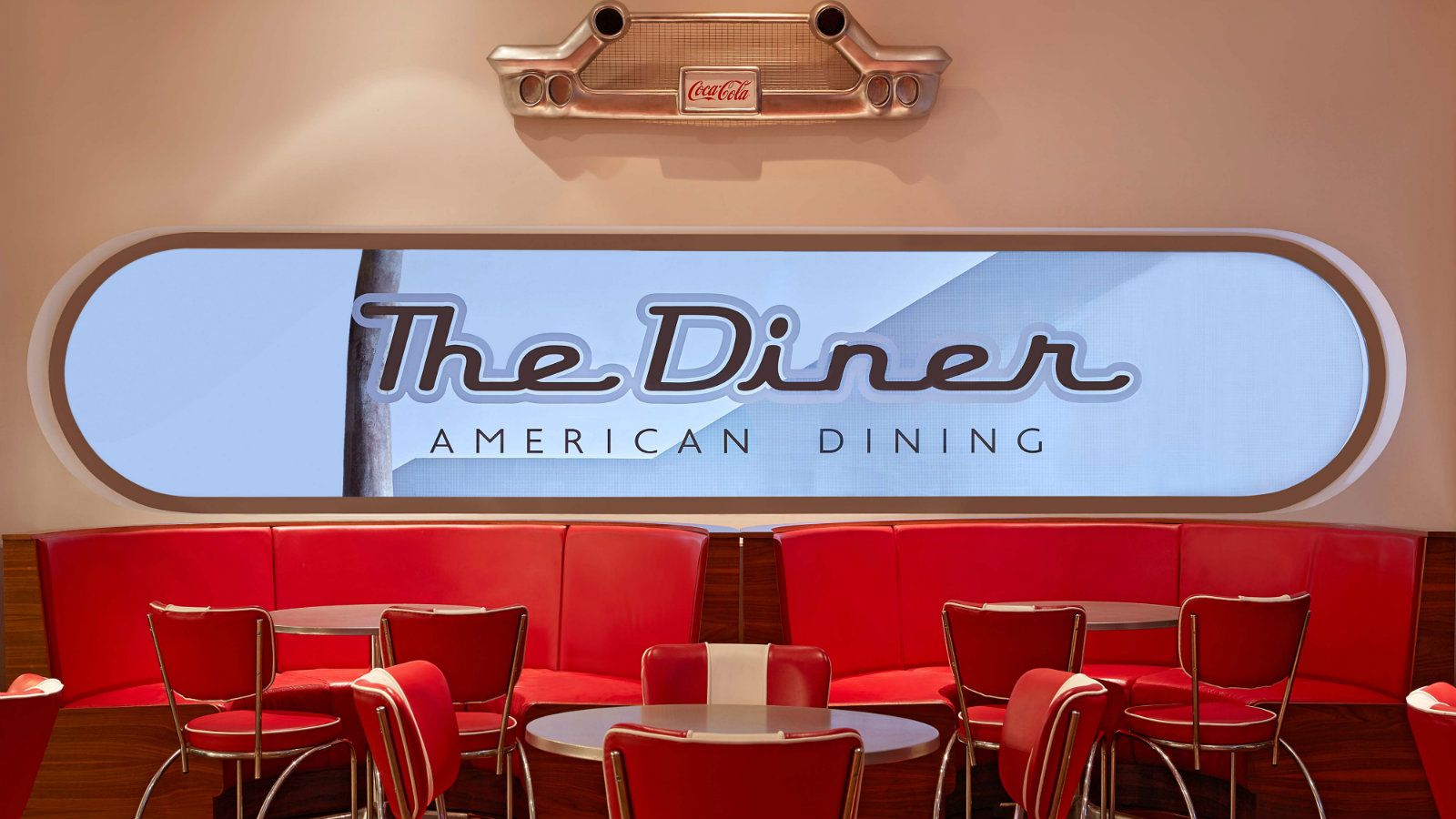 THE DINER
American-style dining with juicy burgers, your grilled favorites cooked to order, and delicious lobster being the latest addition to the menu.
A full afternoon entertainment awaits in an authentic setting, with ten-pin bowling, pool, video games and an indoor cinema.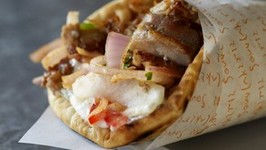 SOUVLAKERIE
Serving traditional Greek souvlaki wrapped in grilled pita bread with garnishes or threaded on small wooden skewers, accompanied by golden fries cooked in Messinian extra virgin olive oil and sprinkled with hand-picked oregano, plus a choice of favorite Greek dishes.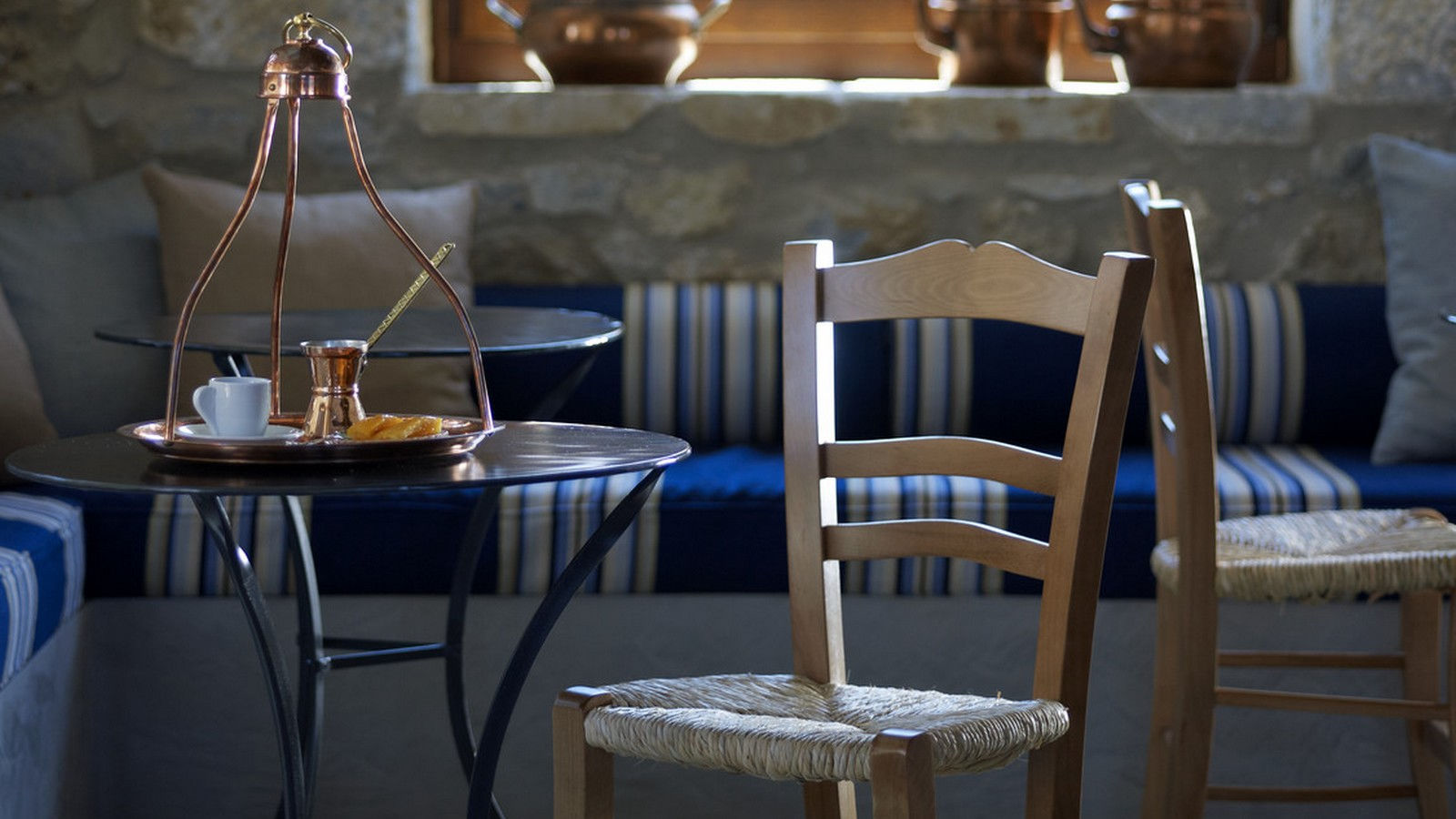 KAFENIO & DELI
A fascinating new take on Greece's time-honored coffee house culture, re-imagined as an all-day venue serving Messinian breakfast, traditional local meze with ouzo, light meals, regional pastries, along with a choice of locally produced cheeses and cold cuts.
Barbouni
Enjoy freshly caught fish and tasteful snacks
A unique beachside spot for lunch, late lunch and early dinner to savor a superb menu by the renowned Chef Chrissanthos Karamolegos. Freshly caught fish and signature delicacies, in a fascinating setting by the crystalclear Ionian Sea.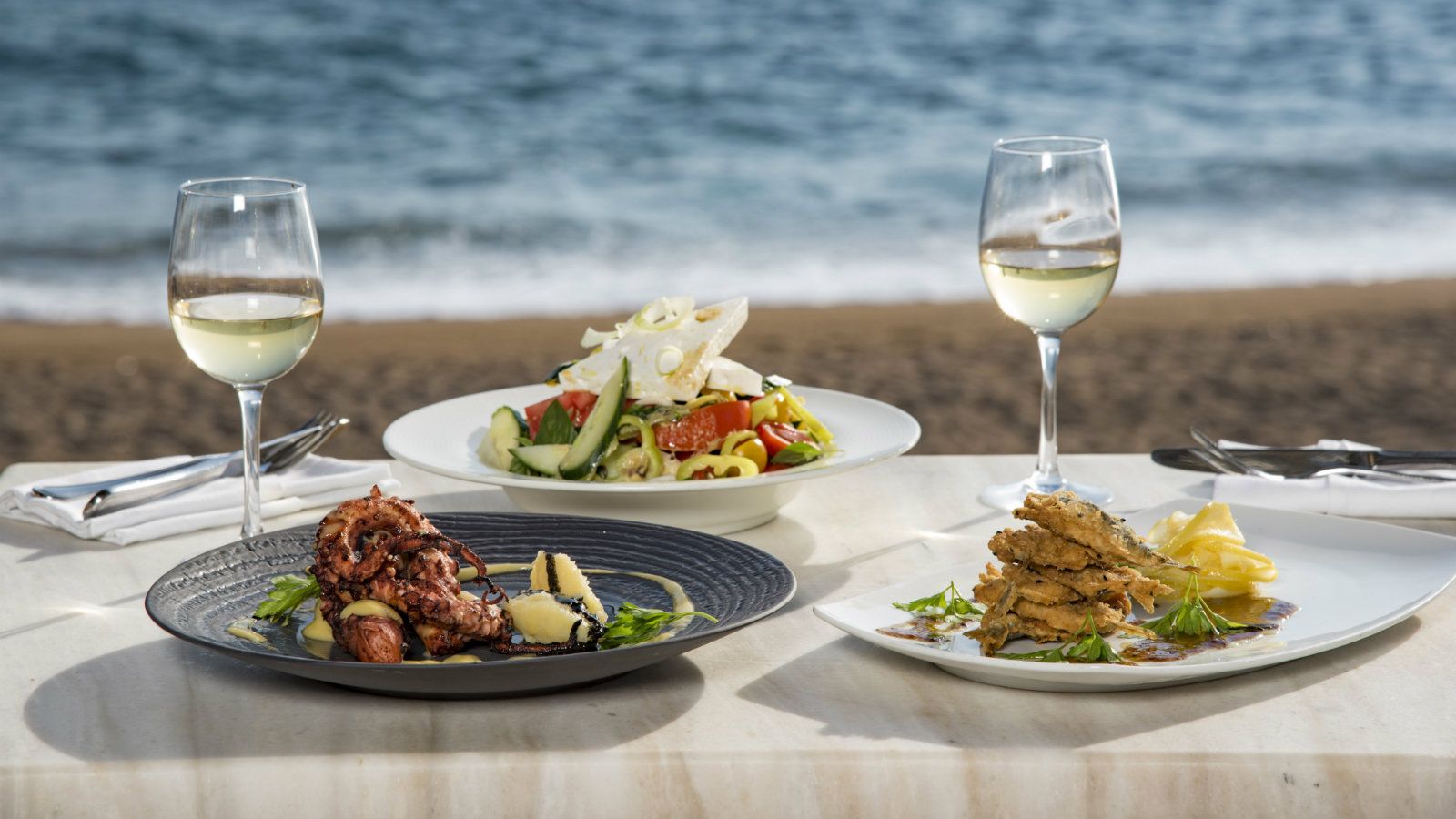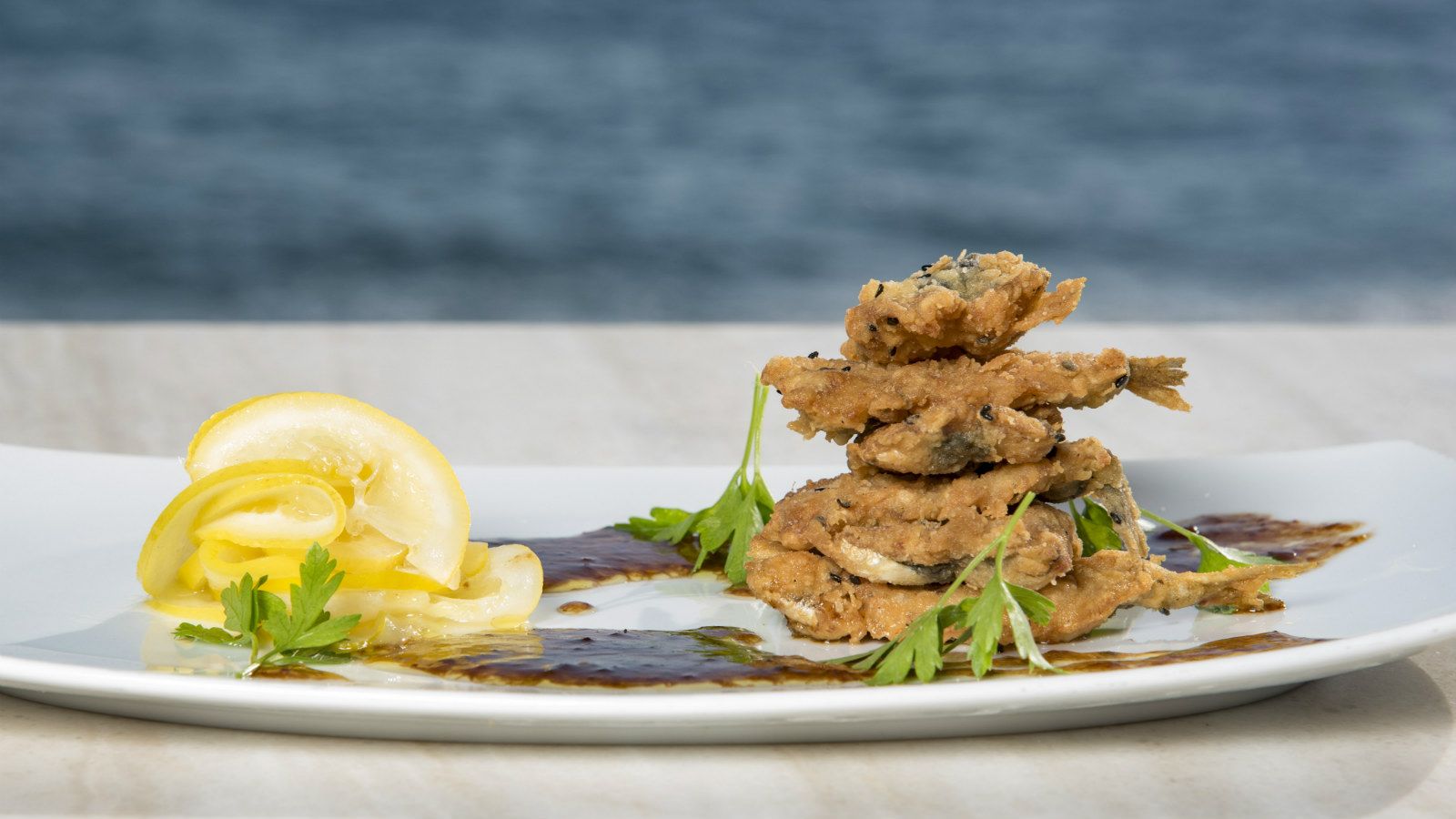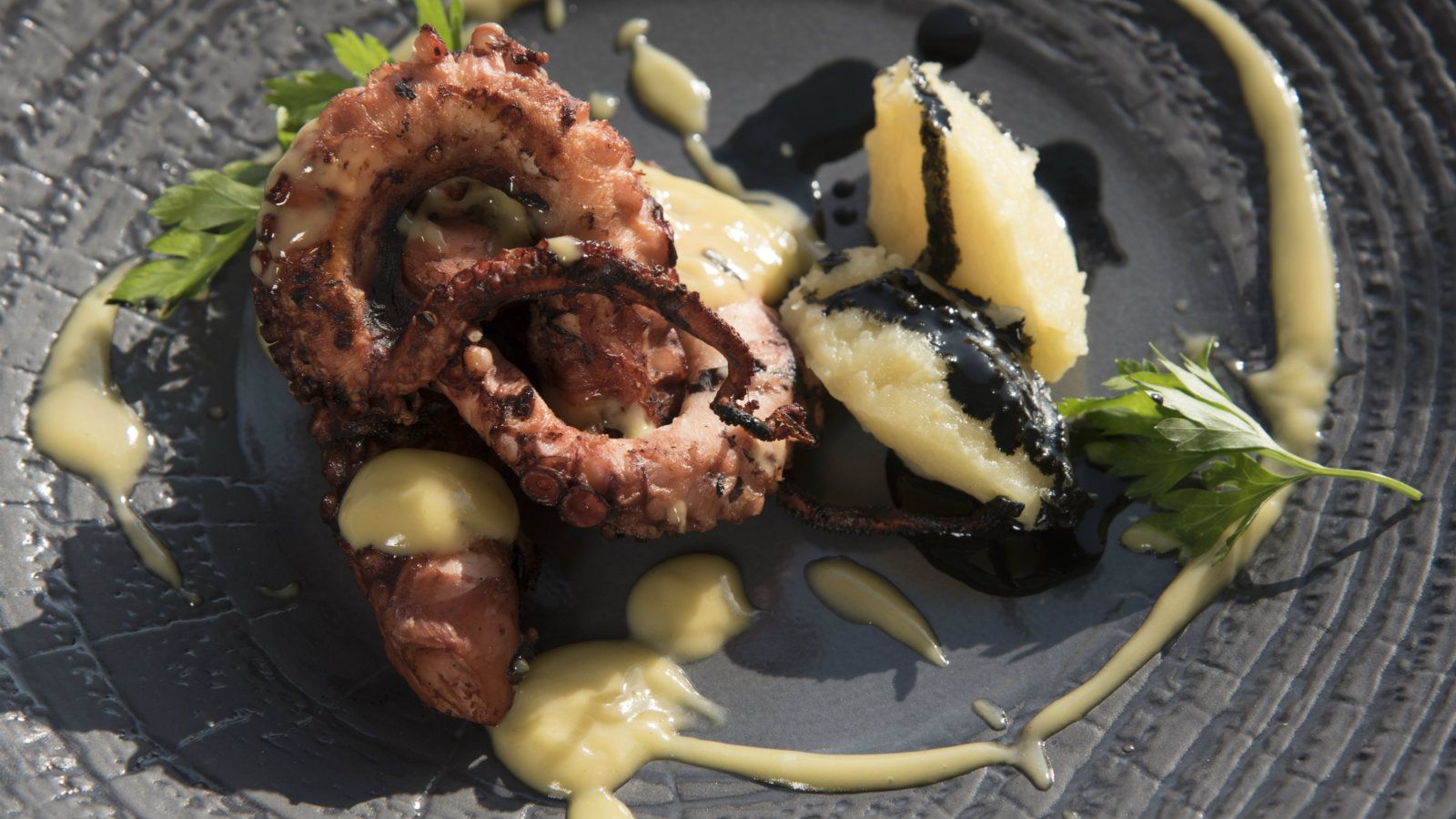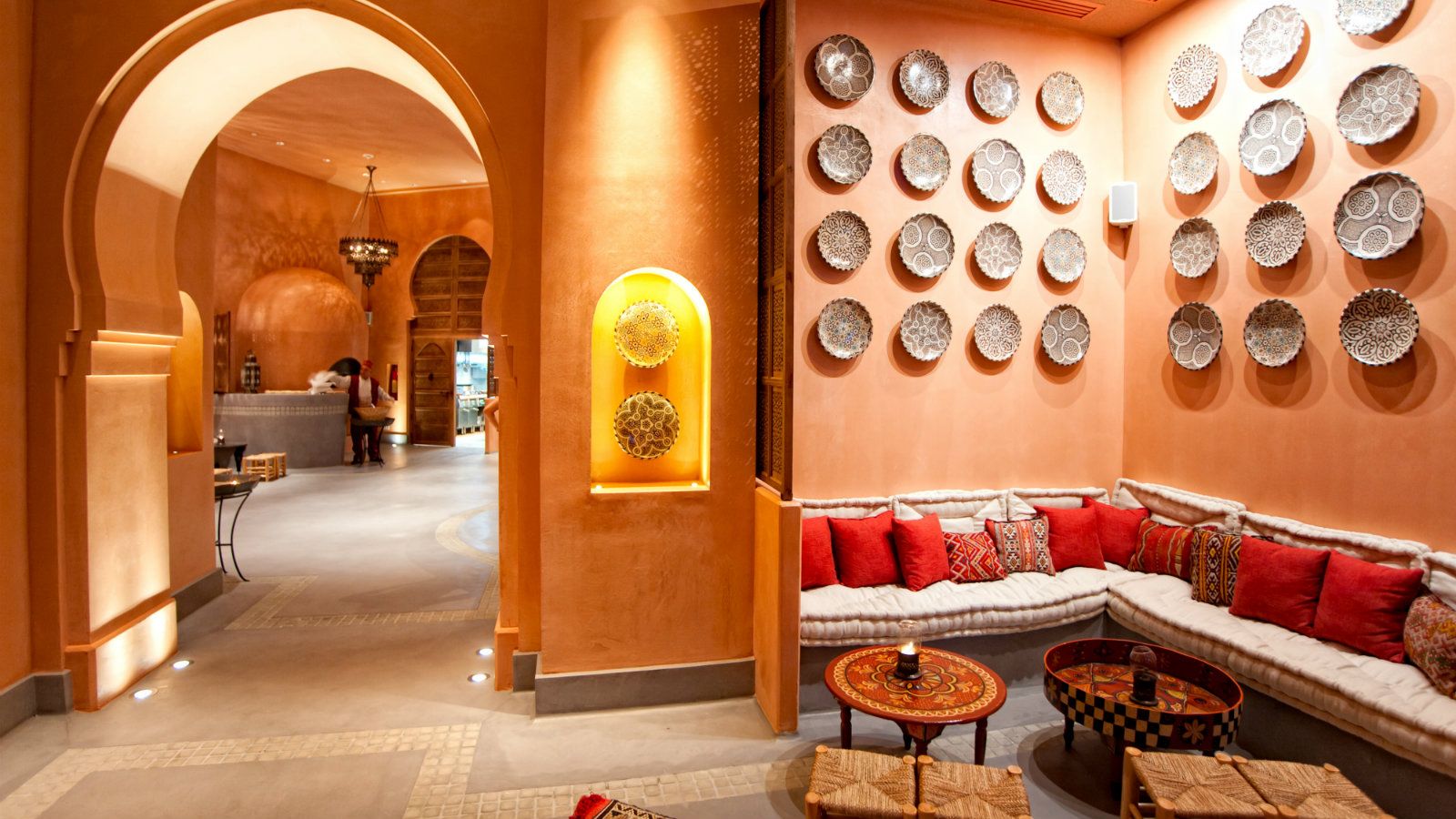 NARGILE
Lebanese Restaurant
The aromas, images and sounds of the Middle East come to life as your taste buds delight in the flat breads, salads and grills of fine Lebanese cuisine. Indulge your senses with an authentic shisha experience in an alluring Levantine atmosphere.
Japanese
Japanese Cuisine
In a cosmopolitan ambiance, enjoy exceptional tastes, unsurpassed quality and a journey through time, with respect of the Japanese tastes and traditions. Combined with a sense of style and class, delivers the intimate dining experience.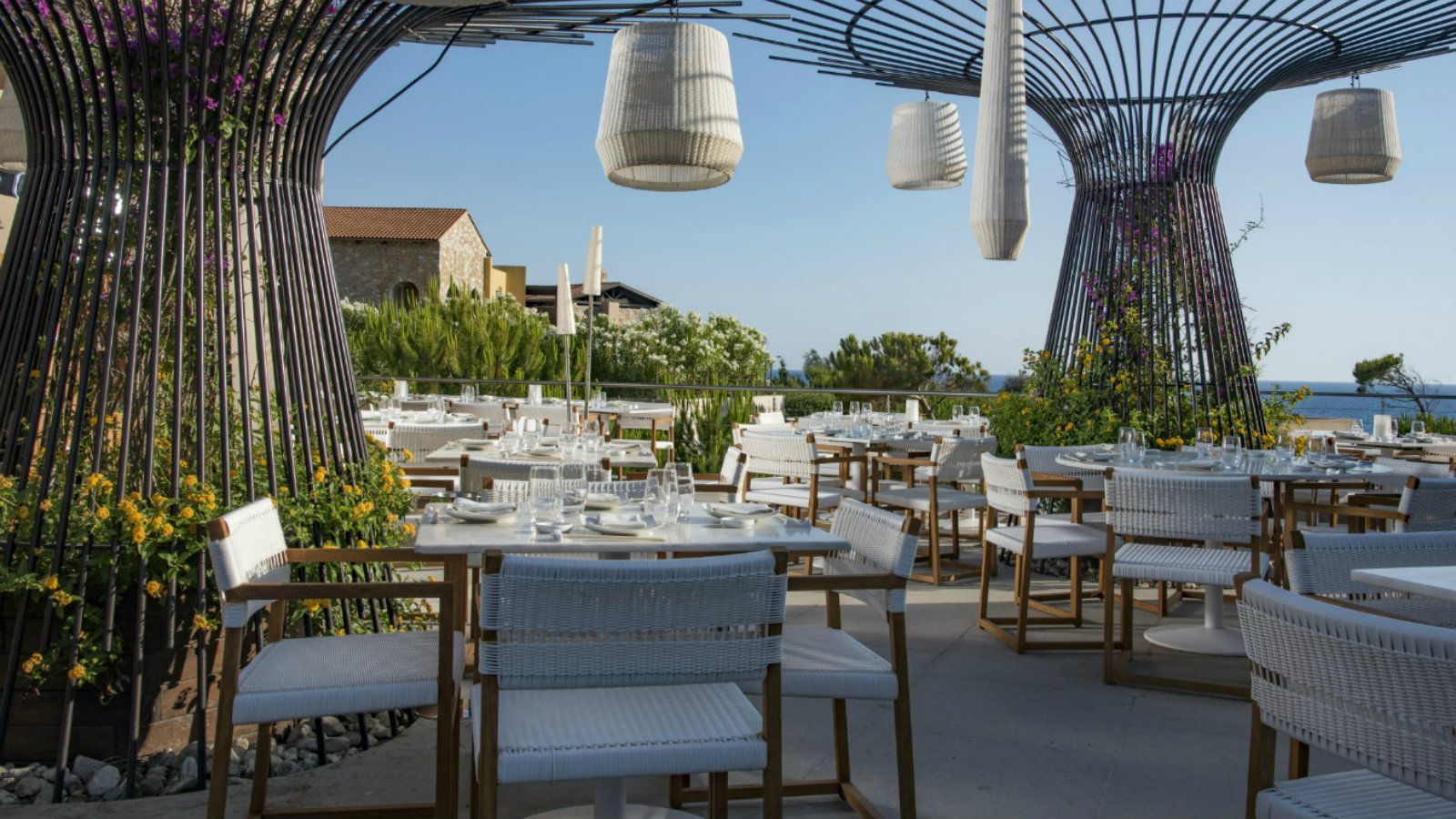 BBQ Pits
A memorable BBQ experience
Surrounded by The Romanos Resort indigenous flora, our BBQ pits are ideal for friends and family dinners in utmost privacy. Under the attentive gaze of our Chefs, savor locally sourced organic meats and freshly caught fish cooked to perfection, accompanied by delicious sauces, dips and grilled baby vegetables freshly picked from our own garden.
Reservation 24 hours in advance is required
More options
Try one of the renowned ice creams of Kayak or celebrate a special occasion
KAYAK ICE CREAM
Centrally located in the Agora, the Kayak Boutique store acquaints visitors with the authentic taste of Greece's renowned ice creams that stand out for their imaginative flavor combinations.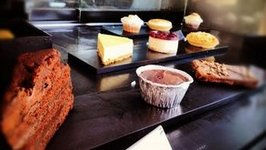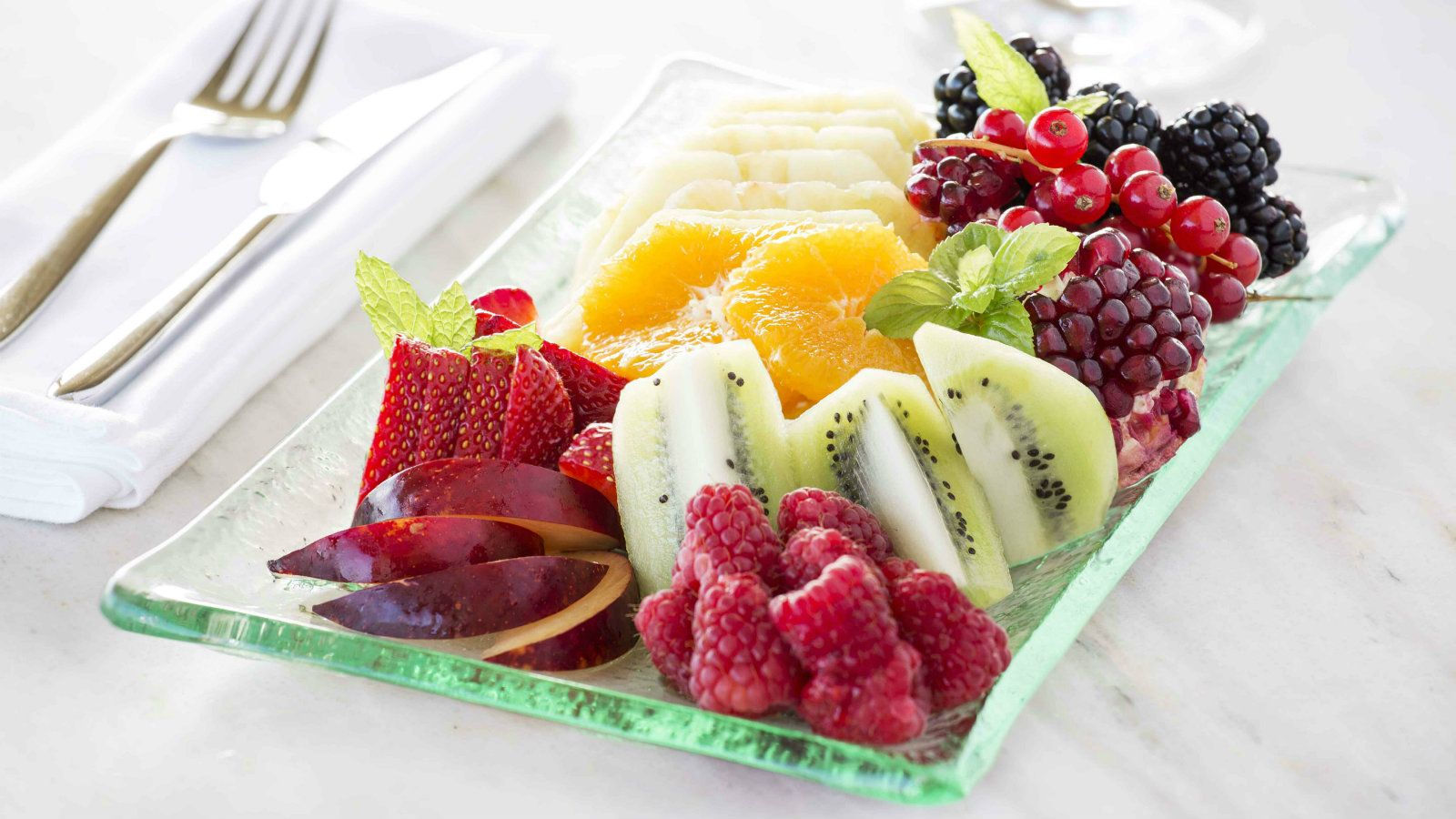 IN ROOM DINING
Nutritious snacks and delicious dishes are being served at the comfort of your room, suite or villa. For the full menu, please refer to the "In-room Dining" book section of the Directory of Guest Services located at your room.
PRIVATE DINING
Whether you wish to share intimate moments in total privacy, planning an anniversary party or a business lunch, we will create for you an elegant and memorable event. Choose from an inspired selection of fascinating indoor and outdoor venues and locations, and a wide variety of delightful menus, and let us offer you the ultimate dining experience.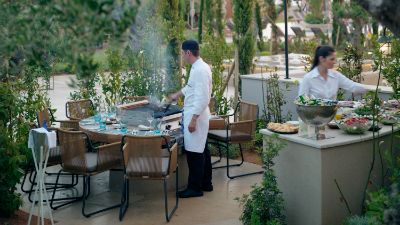 BBQ PITS

Surrounded by indigenous flora, our BBQ pits are ideal for friends and family dinners in utmost privacy. Under the attentive gaze of our Chefs, savor locally sourced organic meats and freshly caught fish cooked to perfection, accompanied by delicious sauces, dips and grilled baby vegetables, freshly picked from our own gardens.
The Beach Experience
Enjoy our special beach menu
Washed by the sparkling blue waters of the Ionian Sea, The Dunes Beach stretches for 1 km under the warm glow of the Messinian sun. This sandy, west-facing beach, with cozy sun loungers and umbrellas, offers the ideal setting to leisurely enjoy our special beach menu, along with cool beverages and refreshing cocktails.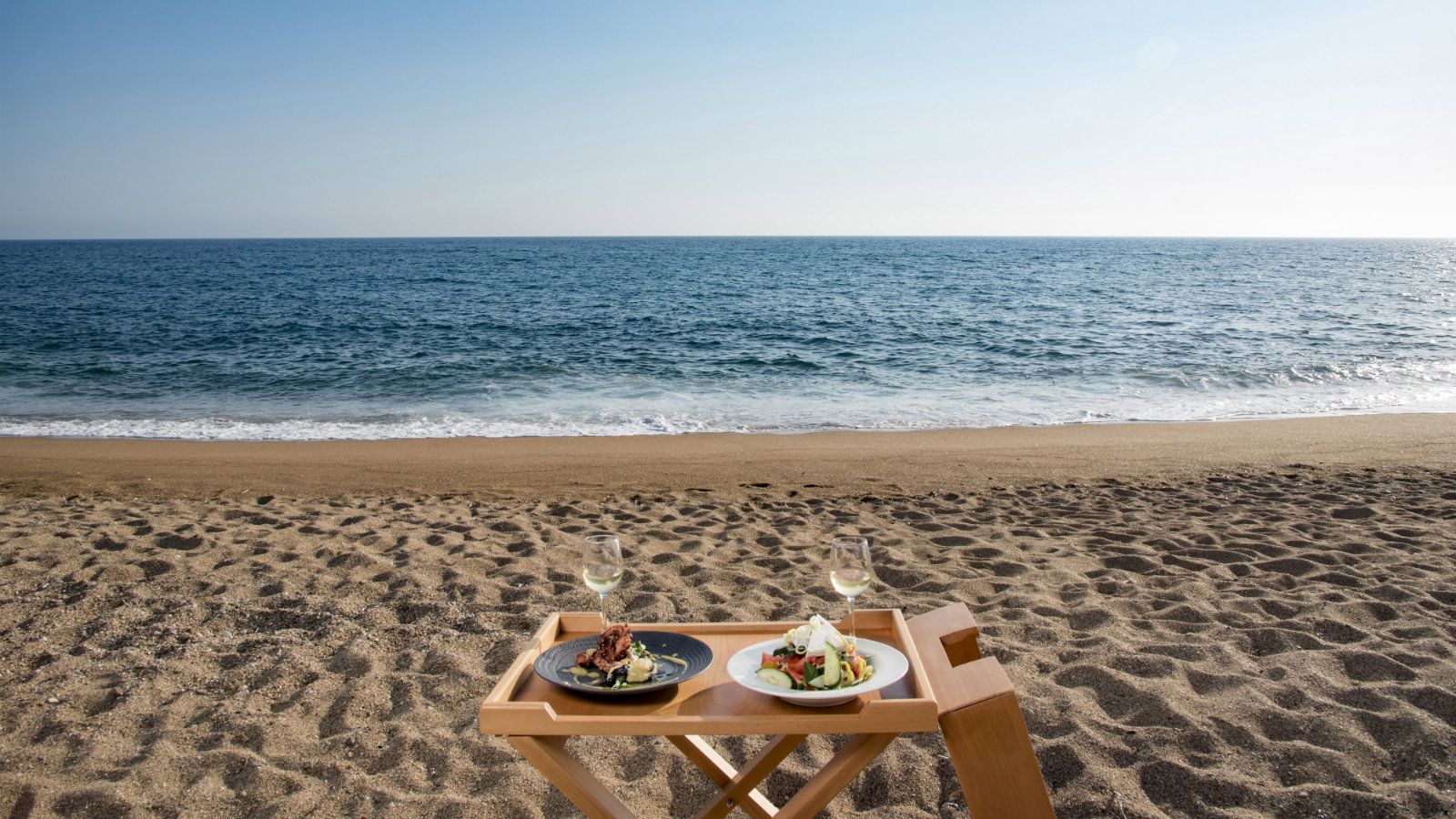 BARS & LOUNGES
Discover our wines and The Luxury Collection Signature Cocktails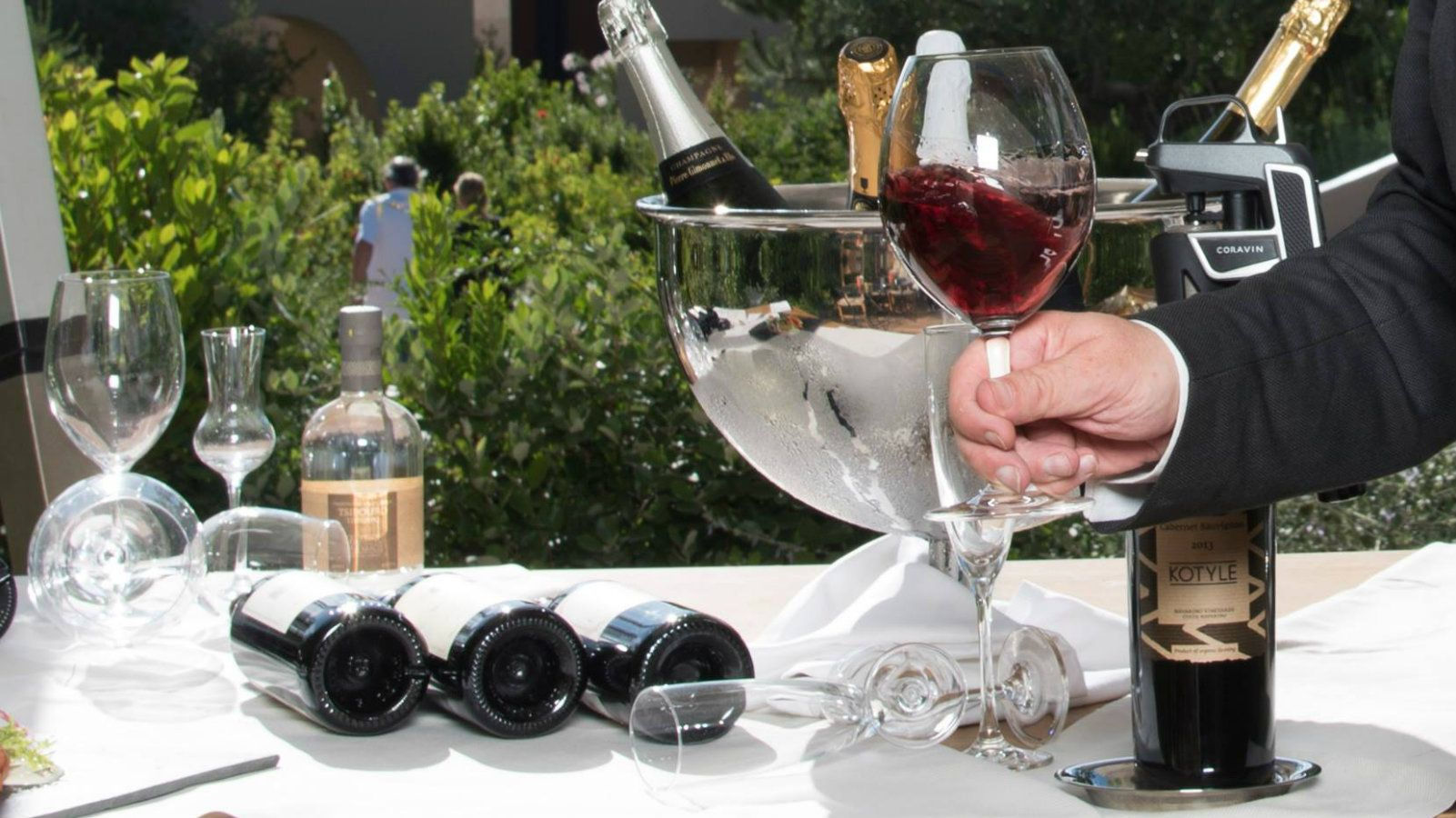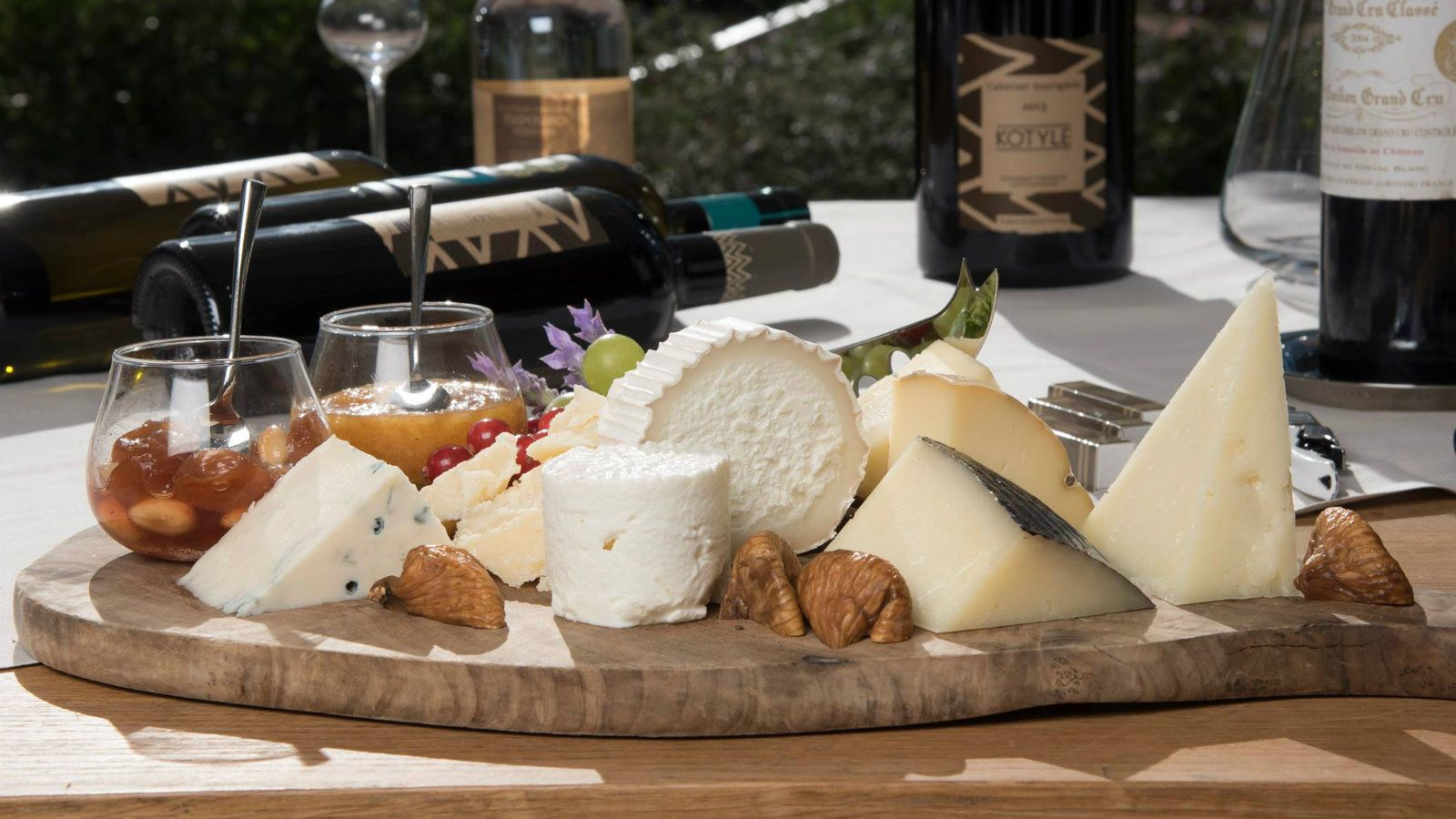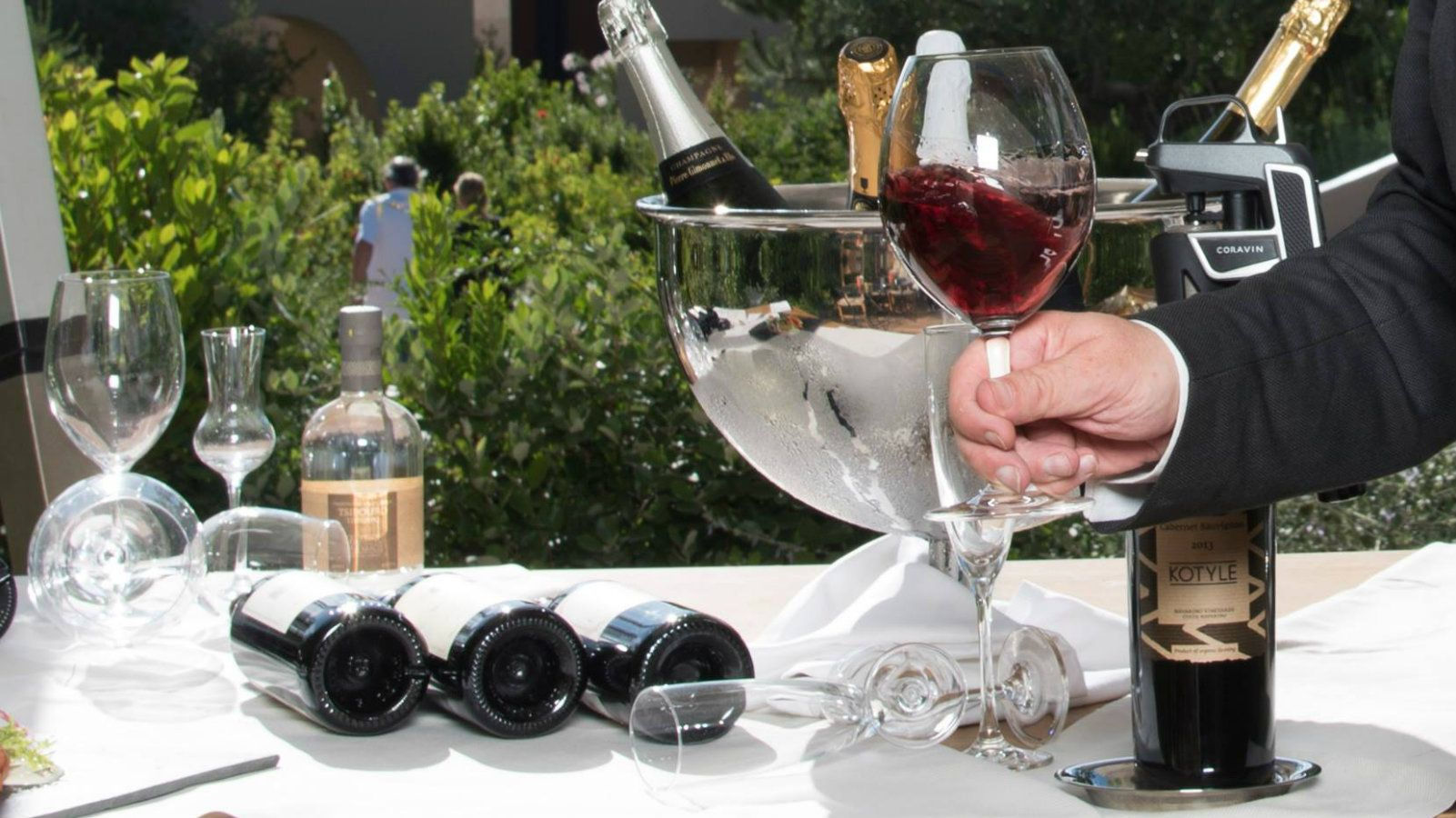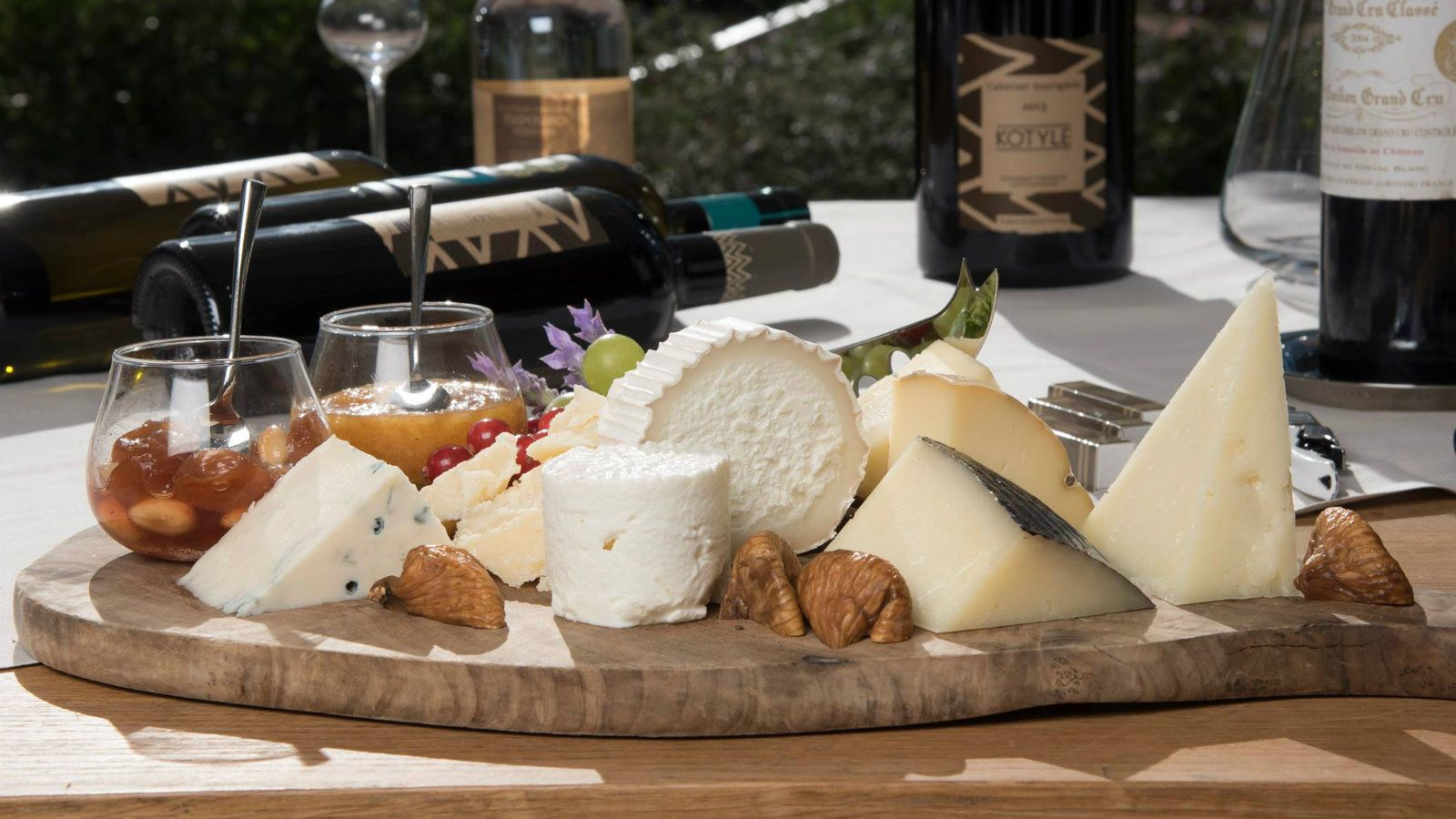 FINE WINES BY THE GLASS
Enjoy your favorite wine by the glass
Our Coravin system keeps wines in perfect condition, giving us the ability to serve fine wines by the glass. Choose from our cellar diverse varietals, brands and vintages, and enjoy your favorite wine by the glass at Flame, Perovino and Da Luigi restaurants.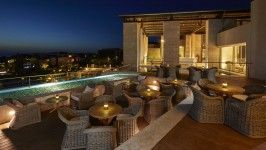 ANAX LOUNGE
As day gently slips into night, soak up the sights and sounds of Navarino Dunes from the elegant Anax terrace. Savor magnificent signature cocktail creations, enhanced by the alluring Ionian Sea sunset views.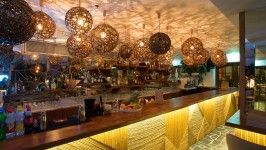 BRANCO BAR
A Caribbean and Tiki style cocktail bar, served along with exotic fresh fruits juices, ice cream rolls handmade on the spot, sandwiches and salads.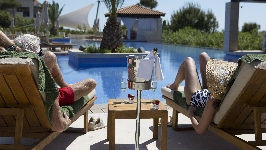 ROMANOS POOL BAR
Under the warm Messinian sun, swim up to the bar for a glass of chilled Greek rosé wine, or a refreshing cocktail, accompanied by tempting snacks, creatively prepared by our culinary team.
OUR GUEST GALLERY ON INSTAGRAM #ROMANOSCOSTANAVARINO